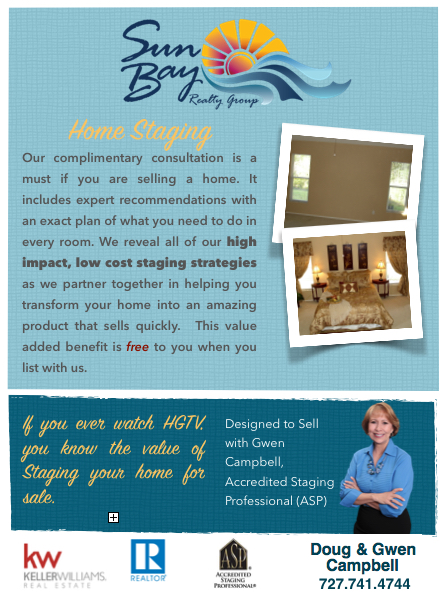 Are you selling your home? Then staging is for you. our Lead Listing Agent, Gwen Campbell, is a certified home stager! A staging consult with Gwen is available with every home she lists!
Here are a couple of simple staging guidelines to review in advance:
Declutter! Remove as many items from your home as possible. Less items, more space!
De-Personalize! While you love your wedding photo on the wall, prospective buyers may not be able to picture themselves in your home when it is filled with personal items! Remove anything that is too personal.
Stow as much as possible! Basket up the toys, throw the dog beds in the garage, and coral the shoes.
Take away to Eww factor! Those rugs in front of the vanity? The mat under the cat dish? Those items, while a part of everyday life for you, are not the most welcoming attribute to prospective buyers.
Make the bed! Enough Said.
Clean! Even if you hate cleaning, it needs to be super spic and span. Hire someone if you have to. But people will see dirty baseboards as a deterrent, as they may think that you if you skip on cleaning, your probably skip on general maintenance.