Palm Harbor, Florida, is a bustling community on the west coast of Florida, right on the Gulf of Mexico. It is an unincorporated part of Pinellas County, thus no city taxes. Not only are there outstanding opportunities for fishing and boating, Palm Harbor has many excellent golf courses, ranging from the Copperhead Course at Innisbrook, home to the Valspar PGA tournament, to the Lansbrook championship course, to 3 executive golf courses in Highland Lakes, a 55+ community.
Why not live in Palm Harbor and find out that there are lots of things to do in this Gulf Coast community? How often do you wonder if there are things to do in Palm Harbor? Well here is a list, although not complete, but it will certainly give you the idea that Palm Harbor is a community that offers a great quality of life. And by the time you are done reading this blog, you will want to look for homes for sale in Palm Harbor.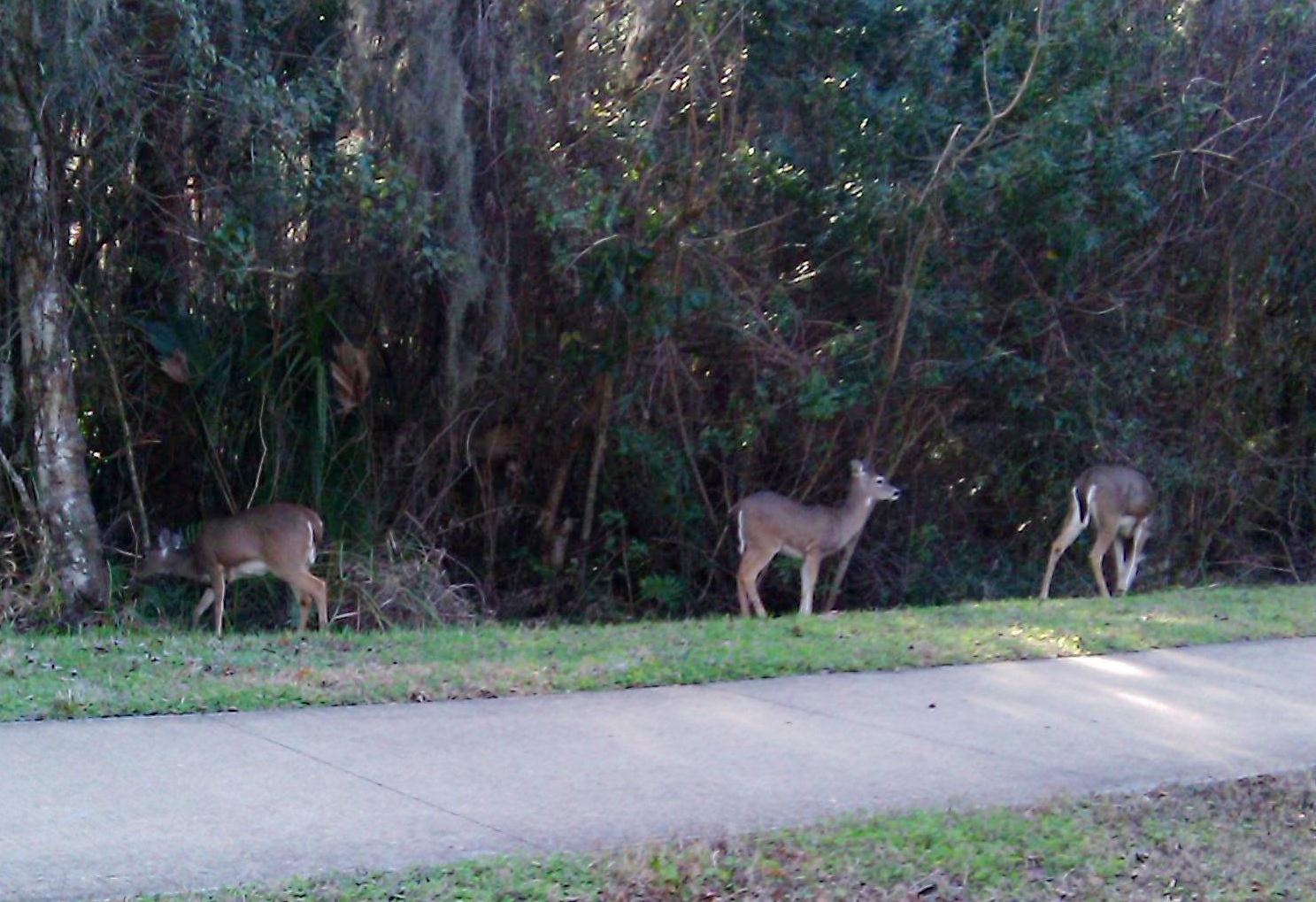 Deer can be seen often in the East Lake area of Palm Harbor, or on the Highland Lakes golf courses, or in any of the other golf courses or park-like settings in Palm Harbor.

Is a day at the park something that appeals to you? You can bring a picnic with you for a full day of family fun. Palm Harbor offers several parks, including John Chestnut Park and Wall Springs Park. John Chestnut Park is on the east side of Tarpon Lake and admission is free to all. There are many covered pavilions with picnic tables and charcoal grills so you can enjoy the day and be in the shade while you grill your burgers and hot dogs. You can reserve a pavilion for a small fee for that family outing, or the company picnic with a beautiful setting on the lake. There are barbeque grills available at the pavilions for those who like burgers, hot dogs or steaks. Then go take a stroll on the boardwalk along the lake and if you look really hard, you might see a gator. Just don't feed them! Or, catch a bass in the lake.

If you prefer the salt water life over the fresh water of Lake Tarpon, take a trip to Wall Springs Park, again with free admission. There are walking trails that lead to several fishing piers that you can introduce little children to the fun of catching their first fish. Also, Wall Springs offers lots of areas for kayakers to investigate the mangrove forests and maybe see egrets, or dolphin, or lots of fish. Wall Springs is open until dusk every day. There is even an observation tower to climb for a panoramic view of St. Joseph's Sound. You can ride your bike on the Pinellas trail and get to Wall Springs Park easily, the entrance to the park is right along the Pinellas Trail. These are great reasons to look for homes for sale in Palm Harbor, so let's find a few more.

Looking for something more competitive than a day in the park, try golf. Palm Harbor has lots of golf courses, to test every skill level. There is the Innisbrook Golf Resort, host to the Valspar PGA golf tournament on the famous Copperhead Course.Packard's Steakhouse is a world class steak house right in Innisbrook for a tasty cap to your successful day on the course. There are three other championship courses within the resort to complement Copperhead. You also can buy a luxury home within the resort, with vacation rentals also available and all the amenities are available.

Other golf courses include the Countryside Country Club, Lansbrook Golf Club, East Lake Country Club. All offer spectacular golf experiences with beautiful and manicured courses. Each is close to really good restaurants, where you can get everything to deep dish pizza to pasta to char-grilled steaks. There are even vegetarian options in the area. More on that another time.

The Highland Lakes 55 plus community has one of the most played golf courses in the country. It is a private course reserved for the use of Highland Lakes residents and their guests. Highland Lakes features 3 nine hole executive courses from 1537 to 1634 yards, each is a par 30.

Spring Training brings an influx of "snowbirds" to watch the three major league teams that are just a short drive from Palm Harbor. They come to see the Blue Jays, or Phillies or the Yankees get ready for the major league baseball season.


Maybe you prefer a little indoor fun, such as eating and enjoying a beverage. In Old Palm Harbor there is Peggy O'Neill's for really great food in a fun atmosphere. Peggy's really rocks on St. Patrick's Day. Or try the Thirsty Marlin. Enjoy fresh local seafood in a very relaxed setting, including the outdoor patio where you can enjoy your meal and even have a tasty cold beverage, all while enjoying our beautiful weather. Still need more things to do in Palm Harbor? Try the Stilt House brewery, one of the latest craft brewers to our area. Do you yet have enough reasons to look for real estate for sale in Palm Harbor?

Not yet? OK, here is more information. A hidden little area is Ozona, west of Alt. 19 and nestled on the Gulf Coast. Ozona gives you the feel of old Florida, with live oak trees and the Gulf of Mexico for your backdrop scenery. For a true feel of Florida, try Molly Goodheads restaurant, even get a bite of gator if you dare. Molly's has been around for many years and is definitely a favorite of the locals, so get away from the mainstream tourist areas and have a great experience at Molly Goodheads. If you would rather dine on the water, there is Ozona Blue, serving the freshest Florida seafood overlooking the Ozona marina.

Here is something that you aren't going to find many other places – The Suncoast Primate Sanctuary. This is a place where chimpanzees, orangutans and monkeys can "retire" after they are no longer suitable as pets, or retire from laboratories or the film industry. Visitors can come to the Sanctuary to view the animals from 10 AM to 4 PM, Thursday thru Sunday. Donations are accepted, with adults at $10, children $5, and kids under three are free. The Sanctuary is located on Alternate 19 in Palm Harbor, and you can even ride there on your bicycle on the Pinellas Bike Trail.

Are you tired yet? How about other things to do in Palm Harbor, like a night at the movies or head to any of the many, many fine restaurants in the area? Muvico in Palm Harbor has ten screens for the latest movies, or cross US 19 for the Cobb Countryside 12 Cinemas at the Westfield Countryside Mall. The Mall has upgraded the dining options to now include PF Changs for super Chinese food, or Red Robin for a great burger and all the fries you can eat, or Bar Louie or BJ's Brewhouse or Grimaldi's Pizzeria or any of the other many restaurants offering good food, and great fun.

If you really want to look for real estate for sale in Palm Harbor to fit your lifestyle, go ahead and do it. Palm Harbor has multiple terrific lifestyles, from country club living and playing on excellent golf courses, to living on the water so you can see the best sunsets every evening, for free, or take a boat out to maybe catch dinner, or just stroll along the beach for quiet time.

Oh wait!! Forgot to mention the Palm Harbor schools. Simply put, they are excellent. Palm Harbor University High School is one of the most sought after magnet schools in the state. It is on the west side of US 19. Then in the East Lake area is the highly regarded East Lake High School. Both schools have excellent academics and very good athletic programs. There is so much to talk about the good life in Palm Harbor that we'll save it for another time to cover even more reasons to want to live in Palm Harbor and to look for homes for sale in Palm Harbor. Stay tuned, we just might find what makes you want to be here.